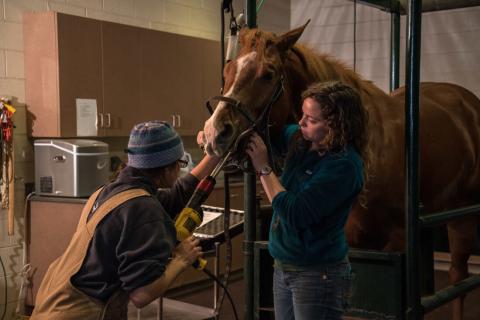 Your horse's mouth and teeth comprise one of the most important portions of his digestive tract and are areas that are often overlooked. A routine exam of the mouth and all of the teeth during an annual wellness exam is a valuable tool in gathering information that will help you maintain your horse's proper body condition and digestive health.

Here at Tennessee Equine Hospital, we offer various dental procedures including:
Hand Teeth Floating
PowerFloat Teeth Floating
Extractions​
Sometimes, keeping your pet's chompers healthy can feel like a big job. Luckily, our practice provides advanced veterinary dentistry services in addition to basic dental care.
This includes routine care such as cleaning.
Tooth extraction is another very common procedure. Our goal is for your pet to retain as many teeth as possible. However, sometimes an extraction is the only option to relieve pain or ensure that periodontal disease does not advance. If not extracted, a diseased tooth can compromise the surrounding tissue and neighboring teeth. If caught early, there are more treatment options available for periodontal disease.
Catching dental problems in the early stages can greatly help your pet in the long run. Contact us right away if your pet experiences any of the following:
Chronic bad breath
Your pet shies away when you try to touch their mouth area
Excessive drooling
Dropping food when eating
Bleeding in your pet's mouth
Loss of appetite or weight loss
Missing, loose or broken teeth