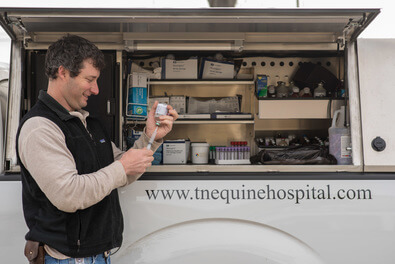 While a vast array of equine vaccines are commercially available, there are a core set of five annual vaccines we recommend for our patients.  These diseases are easy to prevent with proper vaccination and are often fatal if an unvaccinated horse contracts them.  For these reasons we recommend that all horses be vaccinated to prevent
Eastern Equine Encephalitis
Western Equine Encephalitis
Tetanus Toxoid
West Nile Virus
Rabies
Botulism

Does your horse travel, show or trail ride?  For horses that travel or are boarded and will be near other horses we recommend vaccinations to help prevent three highly contagious respiratory diseases:
Rhinopneumonitis
Flu
Strangles

Depending on the unique circumstances surrounding your horses, your veterinarian may also recommend some of the following vaccinations to prevent some less commonly encountered diseases:
Potomac Horse Fever
Salmonella
Leptospirosis Vaccine

Young horses and broodmares have a unique set of immunization requirements. Contact one of our veterinarians to determine the appropriate vaccine protocol to meet the needs of your foals, weanlings and broodmares.